Covered RV Storage in Fort Myers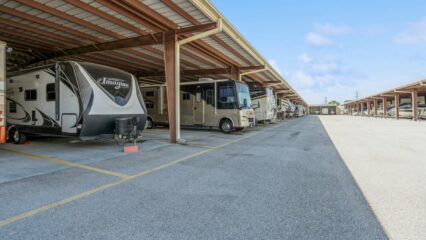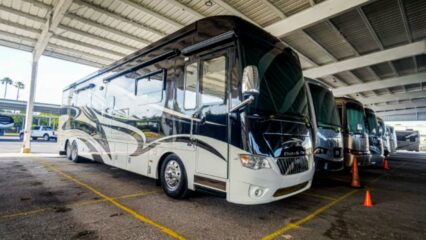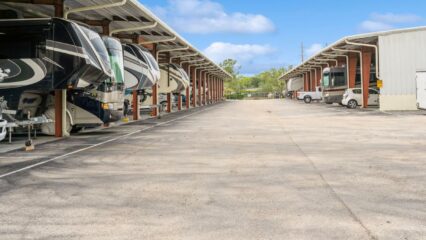 Covered RV Storage in Fort Myers, FL
If you're an RV owner in Fort Myers, FL, looking for a secure place to keep your vehicle during the off-season, come to Honey Bee RV Storage! At Honey Bee, we offer convenient and accessible storage for your RV so you can enjoy your adventures without the hassle of trying to find space for your RV at home.
For your convenience, we have multiple RV storage facilities in Fort Myers offering covered storage. These Fort Myers storage facilities are located on:
Find a covered RV storage location near you and rent or reserve your storage space today!
Fort Myers Covered RV Storage Features
At our Fort Myers RV storage facilities, we offer a variety of storage features to make your RV as comfortable, secure, and accessible as possible. Here are just a few of the amenities offered at our facilities:
24-hour surveillance cameras
Paved roads
Tire inflators and wash stations
Dump stations
Autopay
Secure Covered RV Storage
At Honey Bee RV Storage, we understand the amount of trust it takes to place your vehicles in our care. We have several security features in place to keep your RV secure while you're away.
Our storage facilities are fully fenced or walled to keep any unwanted visitors out, and they have controlled gated access to make sure you are the only one visiting your prized possession. Our 24-hour surveillance cameras utilize advanced AI technology that aids our monitoring staff in catching any abnormal activity involving your vehicle.
Accessible Covered RV Storage
Storing your RV away from home shouldn't involve a hassle to get your RV when you need it, that's why we make it easy! Most of our RV storage facilities in Fort Myers are fully paved to provide a smooth to access your RV.
At our Fort Myers facilities, we also offer gated access 24/7 so you can easily access your RV when you need it.
Where to Find Covered RV Storage in Fort Myers, FL
We have several covered RV storage facilities located in Fort Myers, FL, so you can choose the storage facility with features and amenities that work best for you. Our covered RV storage facilities in Fort Myers are located on Plantation Road, Industrial Drive, and 6th Street.
Reserve Your Covered RV Storage Space in Fort Myers, FL, Today
With outstanding RV storage features, convenient locations, and accessible and affordable covered parking options, what are you waiting for? Store your RV with Honey Bee RV Storage and clear up that extra space in your yard or driveway today. Avoid risking a violation of municipal or HOA parking restrictions. You can visit our list of frequently asked questions for more information about RV storage or check out our storage tips for help efficiently storing your RV with Honey Bee.
Rent or reserve a covered parking space for your RV online today at Honey Bee RV Storage in Fort Myers, FL, or contact us for more information!